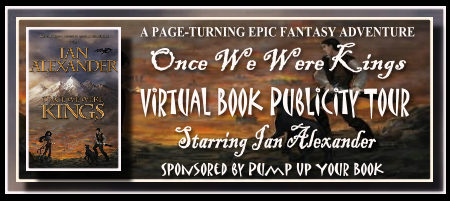 Today on tour is Joshua Graham, writing as Ian Alexander. His book,
Once We Were Kings
, is the highlight of the tour.
Thank you for choosing Bookish Delights as your first stop for the tour!
Title: Once We Were Kings
Author: Ian Alexander, AKA Joshua Graham
Published: March 1st, 2011 by Dawn Treader Press
Ebook Given for Virtual Tour by Pump Up Your Book
Summary:
Two kingdoms, five centuries, one destiny.

In a world where the Sojourners, a nearly extinct race with preternatural abilities struggle to preserve their faith and heritage, destiny thrusts two youths from opposing nations into the heart of a centuries-old conflict.

Render, an orphan from the outskirts of the culturally enlightened Kingdom of Valdshire Tor, escapes slavery and seeks the truth about his true identity only to discover a web of conspiracies. This quest leads to the revelation of his uncanny ability to wield the destructive forces of nature.

Ahndien, sole survivor of a heinous raid on her peaceful village in the Eastern Kingdom of Tian Kuo, embarks on a journey to find her father, now a captive of Torian troops. What she uncovers surpasses anything she can imagine as she masters the ability to manipulate fire.

Guided by shape-shifting spirits, Render and Ahndien's fates collide when first they meet as mortal enemies. However, to save their people from annihilation, they must unite both kingdoms against a terrifying enemy that threatens to destroy both realms.

But how can a young slave and a peasant bring sworn enemies of half a millennium together?

ONCE WE WERE KINGS: The first book in a saga of destiny and redemption, in a world of dying hope. (Via Goodreads)
I know that many people have probably used this word to describe Once We Were Kings, but I can't think of anything else that would fit it so perfectly: EPIC! Once We Were Kings was bookishly epic! I have to confess that I did stay up late to finish the book in one day instead of going to sleep last weekend, but this book had that kind of an influence on me. Don't worry, I didn't pull an all-nighter, I'm not that crazy, but I sure got close to it reading Once We Were Kings. The fantasy, the...poetic language, and the characters pull you in hook and sinker.
Something that really proved to give the book it's style was Alexander's writing. The book was kind of predictable, but I liked it like that. Though the plot itself lacked complexion, overall the story was incredible. I would love to pull an actual all-nighter and read this book from Page 1 to 1186. Though it seemed a bit long, sometimes books longer just give you a better plot.
The character development was off the top, and the evil, the romance, and everything else was like it actually happened. Render and Ahndien were masterpiece characters that were truly gripping to read about. If I could, I would award them a gold medal. Ian, your novel is another fantastic book that deserves an incredible amount of praise, I would never be able to accomplish!
Cover Thoughts:
The cover is gorgeous and artistically done with immense attention to details.
Rating:
4.5/5 Stars
Buy the Book:
Need to go to the next stop in the tour? Well, here it is:
Tuesday, September 6
Guest blogging at Literarily Speaking
Here's some more info for anyone interested:
Visit the official Ian Alexander website at www.ianalex.com
Twitter: @IanAlex77

Biography
Writing Epic Fantasy as Ian Alexander, Joshua Graham is the author of numerous bestselling titles, including his Barnes & Noble #1 bestselling legal thriller BEYOND JUSTICE, which was listed on Suspense Magazine's Best of 2010, along with titles by Scott Turrow, Ted Dekker, Steven James and Brad Thor.

ONCE WE WERE KINGS $3.99
For nook: http://bit.ly/jeio82
For Kindle: http://amzn.to/iAWsMm
For Kindle UK: http://amzn.to/km9icp
For iBooks: http://bit.ly/k7F5ML
For every other ebook reader: Smashwords: http://bit.ly/lUlOM8


Visit the official Ian Alexander website at www.ianalex.com
Twitter: @IanAlex77
Website:http://www.ianalex.com
Facebook: http://on.fb.me/IanAlex
This Roshini...signing out!