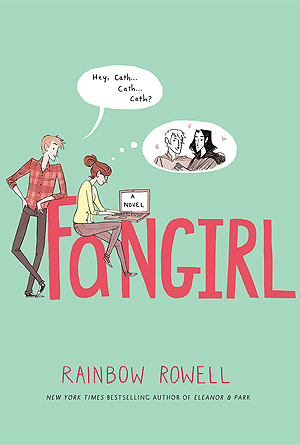 Fangirl by Rainbow Rowell, 481 pages
Published September 10th 2013 by St. Martin's Press
Goodreads Synopsis:
From the author of the New York Times bestseller Eleanor & Park. A coming-of-age tale of fan fiction, family and first love.
Cath is a Simon Snow fan.
Okay, the whole world is a Simon Snow fan...
But for Cath, being a fan is her life—and she's really good at it. She and her twin sister, Wren, ensconced themselves in the Simon Snow series when they were just kids; it's what got them through their mother leaving. Reading. Rereading. Hanging out in Simon Snow forums, writing Simon Snow fan fiction, dressing up like the characters for every movie premiere.
Cath's sister has mostly grown away from fandom, but Cath can't let go. She doesn't want to.
Now that they're going to college, Wren has told Cath she doesn't want to be roommates. Cath is on her own, completely outside of her comfort zone. She's got a surly roommate with a charming, always-around boyfriend, a fiction-writing professor who thinks fan fiction is the end of the civilized world, a handsome classmate who only wants to talk about words... And she can't stop worrying about her dad, who's loving and fragile and has never really been alone.
For Cath, the question is: Can she do this? Can she make it without Wren holding her hand? Is she ready to start living her own life? Writing her own stories?
And does she even want to move on if it means leaving Simon Snow behind?
My thoughts:
It's weird to start reading more YA again after such a long hiatus, especially now that it is for a class and I couldn't necessarily choose to not read this book if I found it too slow at the beginning. Having a YA book chosen for me makes me really appreciate whether or not I truly enjoyed it since I have to stick around till the end. Had a publisher sent me this book to read I would always have the option to stop reading had the book seemed actually terrible and I couldn't get to the end. With a class though, I had to finish no matter what opinions I could get about it because I had a quiz at the end that would factor into whether or not I pass.
At first, I'm not sure whether it was because the book was chosen for me or because it was just a while since I read young adult, Fangirl seemed a little slow to me. It didn't feel like it was picking up until I realized how engrossed into it I was by the second half of the book. It was an especially great book for me to get back into reading YA since it was set in a relatable time period of life, college, something I'm experiencing right now.
Cath, the main character, really relies on narrative intimacy. She loves a series so much that she has it woven into her own life and even writes successful fanfiction based on it. What makes this story so easy to get into and relatable for me is seeing a socially awkward girl learn to come out more as she begins college. Though at times, even I couldn't completely sympathize with Cath, I could totally see myself having the same problems when I first started college- being scared of going to the dining hall or being intimidating by a totally new person being my roommate. As the book progresses, I really appreciate that Cath comes out of her shell and really discovers what lengths she can take her talent in writing. For any high schooler afraid of starting college or even someone who has already been through freshman year, this book is a nice read to learn that sometimes it takes a while to come out of your shell.
Anyone who loves being drawn into books and feels like it takes them forever to leave the world of a book even after reaching the last sentence can see how Rainbow Rowell used that feeling and built a whole novel to explore the effects it can have on a book lover.
As I mentioned before though, the beginning of the book for me was slightly too drawn out though I do recommend sticking it out until the end if you are given the choice to put it down. I also had a problem with the end and felt like it wrapped up so many things way too soon.
My rating:
I would give this book 4/5 stars for an honest and well-written exploration of such an interesting concept found so often in the universe of bibliophiles.